Crowns and Bridges at Junction Village Dental
Your mouth relies on each of your teeth being healthy to chew, bite and speak efficiently. When a tooth breaks or is removed, it can alter the overall movements and function of your mouth (not to mention affect the way your smile looks).
Fortunately, our custom crowns and bridges at Junction Village Dental are able to help you preserve your natural chewing functions while maintaining optimal aesthetics. Each restoration is crafted from custom-matched ceramics that are both durable and blend in with your smile as a whole.


When a Crown May Be Needed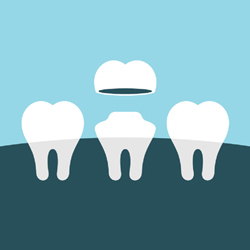 Do you have a tooth that's steadily chipping away? If there's not enough structure to support a filling, a crown is usually the best recommendation. Crowns provide circumferential protection that strengthens your tooth and holds it together.
Adults may need a crown if they've recently undergone root canal treatment or had an old, large filling that needs to be replaced. Crowns are also effective for managing cracked tooth syndrome. If your tooth hurts to eat, putting a crown over it can prevent the crack from spreading further.


About Dental Bridges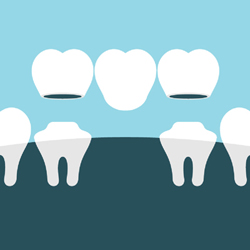 A bridge is a conventional option for replacing your missing tooth. It's ideal if you don't qualify for dental implants or prefer not to wear a removable partial denture.
We can place a bridge as long as there are structurally sound teeth on either side of the gap where your missing tooth once sat. Ideally, the supporting teeth will have larger fillings and need a crown, as bridges cover the entire surface and require fairly identical treatment processes. If the teeth are virgin and without any other restorations, an implant may be better.
Multi-tooth bridges can also be set on top of a pair of implants.


The Crown and Bridge Treatment Process
Getting a crown or bridge made is a two-visit process, with separate appointments about two weeks apart. During the first visit, we'll prep your supporting tooth so that a restoration can slip over it. Then we'll take an impression and send it to our lab, along with the appropriate colour and shape instructions.
When you return for the second appointment, we'll remove your temporary crown(s) and place the permanent restoration with a strong bonding agent.
Do You Need a Fixed Restoration?
Keep your smile healthy and strong with a custom dental crown or bridge The Junction. Schedule your next exam today to find out which option is best for you.
CONTACT US
* Any surgical or invasive procedure carries risks. Before proceeding, you should seek a second opinion from an appropriately qualified health practitioner.

Dental Crowns and Bridges The Junction, Merewether, Newcastle NSW | (02) 4962 1621