Dental Implants at Junction Village Dental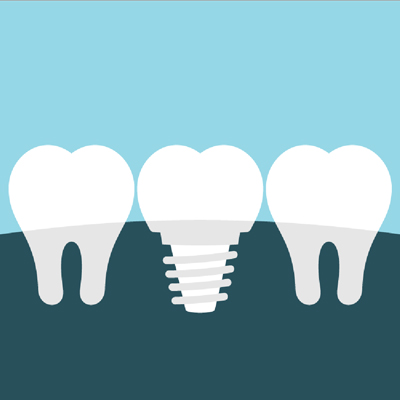 For adults with missing teeth, dental implants are a smart and long-lasting investment. Compared to other types of popular tooth replacement, implants are more closely modelled after natural tooth design and function.
What Are Implants?
An implant is an artificial, biocompatible tooth "root" that's set into your bone. The titanium material is frequently used in other types of medical-grade products, as it's readily accepted by the patient and integrates naturally with the bone. As new bone fuses to the surface (a process we call osseointegration) it permanently fuses your new implant into your mouth. They don't rely on neighbouring teeth to support them.
When integrated, implants are extremely durable and capable of supporting extensive amounts of weight. A pair of implants can support a multi-tooth bridge, while as few as four implants can stabilise a full-arch hybrid denture.
Advantages of Dental Implants
Best return on investment
Useful for single or multiple teeth
Designed to last for life
Non-invasive to other teeth
Supports your natural facial profile
Extremely durable
Support a variety of different restorations
Help preserve natural tooth alignment
Effective for extracted or congenitally missing teeth
Your Implant Restoration
A few months after your implant surgery, they should be completely integrated into the bone. At this point, we can install the fixed restorations on top of an abutment, which is the secure fixture holding it onto the implant root.
Depending on how many missing teeth you have, dental implant restorations typically consist of one of the following:
Crowns — For single tooth replacement, an individual implant and custom crown work best. The final product should look and feel more like a natural tooth than other popular types of restorations. And it's just as easy to care for!
Bridges — Instead of a partial denture, we can use a pair of implants to support a 3-4 tooth dental bridge. Since implants are so durable, they're able to anchor longer bridges than those set on top of natural teeth.
Dentures — A stabilised or anchored implant denture gives you added security throughout the day. No gooey adhesives are needed!
Contraindications for Implants
Implants are only safe for adults whose mouths are fully developed (not younger teens or children). In most cases, a typical candidate will be at least 25 years old.
If you have underlying medical conditions such as a severe autoimmune disease, implants are not recommended. It's the same for people who smoke or use tobacco products, as these will make it difficult for your mouth to heal and the implant integrate successfully.
Which Implant Option Is Right for You?
Book a consultation today to find out if dental implants The Junction are ideal for your smile.
CONTACT US
* Any surgical or invasive procedure carries risks. Before proceeding, you should seek a second opinion from an appropriately qualified health practitioner.

Dental Implants The Junction, Merewether, Newcastle NSW | (02) 4962 1621