Veneers at Junction Village Dental
Have you ever wished that you could cover up your tooth, giving it an instantly new appearance? Thanks to custom dental veneers from Junction Village Dental, you can!
Veneers are aesthetic restorations that we bond to the front of your smile, hiding the healthy teeth behind them. When attached next to other veneers, your smile looks immediately whiter, fuller and even. No bleaching or braces are needed!
Why Consider Veneers?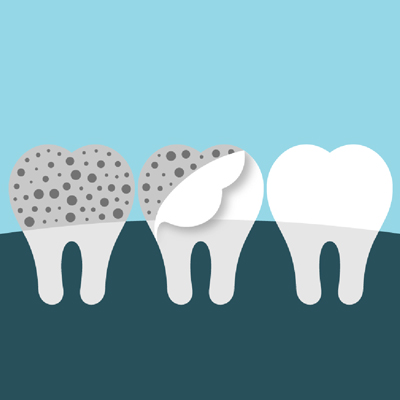 Getting veneers allows you to instantly mask aesthetic problems like:
Discoloured or stained enamel
Misshaped, chipped or uneven teeth
Small gaps or minor crowding
Types of Veneers
Depending on your situation, dental health, smile anatomy and budget, you can choose between porcelain or resin veneers. Each one offers different advantages and outcomes.
Veneers offer more control over the colour of your teeth if tooth whitening is ineffective. You can select the shape, size and contour of each tooth for an optimal overall outcome.
Porcelain — A porcelain veneer is the most durable design available. It retains its colour longer and is more resistant to staining. The procedure takes two appointments to complete.
Resin Bonding — A composite overlay is known as bonding or direct veneers. They're an immediate restoration that's offered at a competitive price. Only one appointment is needed.
Who Is an Ideal Candidate?
Veneers are reserved for adult patients, rather than children, as teeth need to be fully developed.
If you have healthy teeth that are free of decay or gum disease but want to change their shape and size, then veneers are an excellent option to consider. Unlike restorations that cover your entire tooth, veneers only mask the side that's visible when you smile. Existing problems like cavities or periodontitis must be treated first.
As overlays, you can dramatically transform the way you look when you pair multiple veneers side by side. Most people get anywhere from 6-10 veneers, depending on the width of their smile.
What to Expect
During your initial exam, we'll discuss what aspects you want to change about your smile's appearance. From there, we'll determine the type of veneer that will give you the best shape and colour for your situation. Porcelain veneers require two visits about two weeks apart, while bonding only needs one.
For porcelain veneers, we'll numb and prep your teeth, then take an impression for our lab to use. There, your veneers are handcrafted and sent back for delivery. At the placement appointment, we'll bond each veneer to your affected teeth. Instantly, your smile will take on the shape of your brighter, fuller veneers.
Find Out If Veneers Are Right for You
Book a cosmetic dentistry consultation today for a customised smile makeover plan that fits your budget. Veneers The Junction can help give you a smile you'll love!
CONTACT US
* Any surgical or invasive procedure carries risks. Before proceeding, you should seek a second opinion from an appropriately qualified health practitioner.

Dental Veneers The Junction, Merewether, Newcastle NSW | (02) 4962 1621